Alison M. Jones: Humanitarian NGOs
Peruvian Farmers Feed World Market
For Natural Colorants
---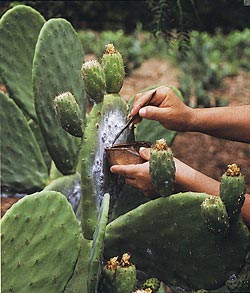 Most Americans have never heard of cochineal, but the tiny insect has had a long history. Cochineal has been a natural source of red coloring going as far back as the Incan empire in Peru. The Spaniards brought it to Europe in the 16th century. The English used it to dye their famous "red coats." But, the use of cochineal dropped in the 20th century with the rise of cheaper artificial colors.
Today, thanks to its natural credentials, cochineal is making a comeback. Carmine, the dye made from cochineal, is used in a variety of popular products, from ice cream and beverages, to cosmetics and medicines.
Cochineal lives exclusively off the prickly pear cactus, a plant ideally suited to the arid climate of the lower plateaus of the Andes. Not surprisingly, then, Peru is the world's largest producer of cochineal, exporting about 700 tons a year, both in dried form and in processed carmine dye.
Because harvesting cochineal is so labor intensive, about 80 percent of the crop is gathered by small-scale farmers. But farmers' profits are low. Why?
Pure economics: The average cochineal changes hands as many as six times between harvest and processing. At the bottom of this long chain, the farmer sees just a fraction of the price that processors pay.

The Ayacucho region produces about 65 percent of Peru's cochineal. In this area, TechnoServe is working with 450 farmers to increase yields and improve harvesting techniques. For example, the concentration and, therefore, the intensity of coloring in the raw cochineal can be greatly improved simply by fertilizing the plants and waiting longer between harvests.
In 1998, TechnoServe-assisted farmers have been able to increase the color concentration in their cochineal from 15 percent to 20 percent, bringing them 70 percent higher prices. Yields, too, have increased from eight kilograms per hectare to more than 20.
On the processing end, TechnoServe is working with a private Peruvian company to build direct marketing links with small-scale producers. Because of the ready supply and better quality, this company is paying these farmers premium prices — a perfect incentive to boost productivity ever further.
---
| | | |
| --- | --- | --- |
| | | This article is an excerpt reprinted from the TechnoServe 1998 Annual Report, Engaging the Global Economy. |
---