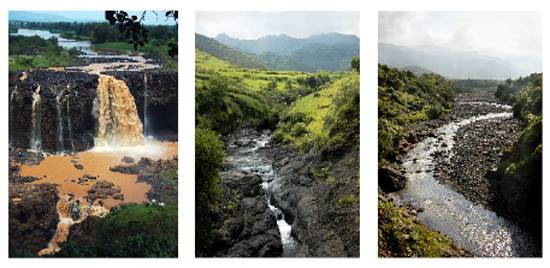 Alison Jones has photographed cultures, wildlife, ecosystems and development for over twenty years. She is now focusing on threats and solutions to Africa and North America's fresh water – a resource that is vital to human health and biodiversity conservation. In her new long-term nonprofit project, No Water No Life, she is photographing issues raised by hydrologists, biologists, ecologists, and other scientists to bring attention to the precarious condition and limited availability of clean fresh water. Her work also documents solutions for sustainable stewardship that could be applied on a global basis. Working with Dr. Robin Sears, Research Scientist at Columbia University, and Robin MacEwan, Resource Manager and Restoration Ecologist, Alison will travel through and use watersheds* as the unit by which to analyze availability, quality and usage of fresh water. Her source-to-sea expeditions will start at rivers' headlands of glaciers, springs and tarns and end at their estuaries and deltas. She will explore watersheds' ecosystems, biodiversity, people and activities that depend on water. The project will illustrate individual, community, national and trans-boundary demands for clean, fresh water.
Threats to these critical watersheds are creating severe consequences for human populations and biodiversity. Watershed from Africa and North America are being chosen for this project to provide a broad, comparative picture of freshwater sources. The No Water No Life team will investigate conservation strategies for highland sources, wetlands, uplands, lakes, riverine corridors and estuaries. North American watersheds being currently studied include those of the Columbia, Mississippi and Raritan Rivers. Known for its salmon migration, the Columbia River Basin covers an area larger than France and is the most hydro-electrically developed in the world. The Mississippi bisects the continent carrying sediment and pollution in channels narrowed by flood-controlling levees. New Jersey's Raritan watershed, supplying fresh water to urban communities in the nation's most densely populated state, struggles with industrial pollution and over-paved surfaces that exacerbate flooding.
In Africa, Alison has been documenting rivers as "ribbons of life" in a dozen countries on 24 different trips in the last two decades. For No Water No Life thus far she is photographing issues in the Omo, Blue Nile and Mara River Basins. The Omo, running from Ethiopia to Kenya and home to some of Africa's most undisturbed indigenous cultures, is losing its riverine forest to agriculture and thus increasing extreme floods are displacing whole communities. The Blue Nile, emanating from Ethiopian Highlands, provides 86% of the water volume to the Nile; yet by treaty its usage is completely governed by Egypt, causing dangerous trans-boundary strife in the Horn of Africa today. The Mara River, flowing into the lowered waters of Lake Victoria, is the water resource and terminus of the famed migration of 2 million wildebeest and zebra, but is facing extremely low volume due to climate change and deforestation in its Mau Forest headlands.
Expected outputs of this long-term project include books for adults and children, magazine articles, lectures, exhibits, interactive website postings, and student curriculums to be created on fresh water issues. As well, No Water No Life fosters partnerships of watershed communities, both upstream and downstream and across continents.
For more information, see the No Water No Life website at nowater-nolife.org.
---
* Watersheds are the land area that drains water to a particular stream, river, or lake. This term is interchangeable with "basin."
The fiscal sponsor granting No Water No Life LLC 501c3 nonprofit status is WINGS WorldQuest, Inc., a NYC nonprofit that is the leading resource and advocate for women explorers and which identifies, supports and honors women exploring earth, sea and space. Tax-deductible checks may be written to "Wings WorldQuest – No Water No Life Project" and mailed to Alison Jones, 330 E 79th Street, #9G, New York, NY 10012.
Wings WorldQuest is a NY not-for-profit corporation exempt from federal tax under section 501(c) (3) of the IRS code of 1954, as amended, having received its IRC 501(c) (3) determination letter from the IRS, November 18, 2004.