Calendar for 2017–18
Dec. 6 – Jan 20, 2018: INDIA Exhibit, NYC
NWNL Director Alison Jones will be in a group show curated by Harvey Stein with images from her 2017 Northern India Spotlight Expedition to arid Rajasthan and Ganges River Basin. Dec. 6 Reception will be 6–8 p.m. at Umbrella Arts Gallery, 317 E. 9th Street. Gallery hours are Thurs.–Sat., 1–6 p.m. and by appt.
Winter 2017: Kenya and Tanzania
Dates and Itinerary are yet to be determined for a return by NWNL Director Alison Jones to the Mara River Basin and opportunities to meet with stewards and scientists working in the Nile and Omo River Basins.
Current & Coming Exhibits
Now through 2022: Smithsonian's "H2O Today / Water Matters" initiative
This traveling exhibition series features a image by Alison M. Jones for No Water No Life (NWNL). SITES (Smithsonian Institution Traveling Exhibition Service) creates its exhibits for educational purposes. The Water Matters exhibit will be shown in various US communities from 2016 to 2022. See the H2O Today page for the itinerary. This teaching opportunity discusses our water usage and how water influences our lives. An online digital exhibit will run from 2016 to 2026. This exhibition is being developed by the Museum on Main Street (MoMS), a branch of SITES.
Dec. 7, 2017 – Jan. 20, 2018: "Northern India", New York, NY
A group show that will include images by NWNL Director Alison M. Jones focused on water availabiilty in arid Rajasthan and the Ganges River Basin. Curated by Harvey Stein, at Umbrella Arts Gallery, 317 East 9th St., NYC.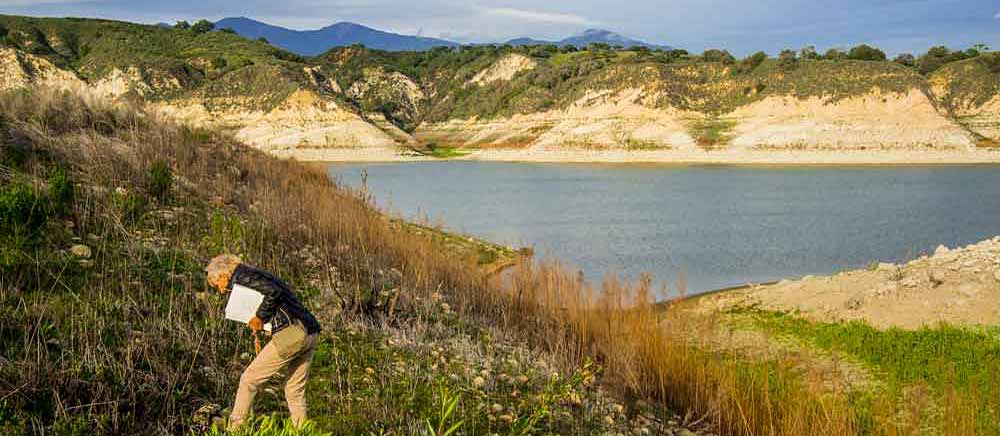 Recent Events, 2017
Dec. 5: "Water Words that Work," Audubon Society of Rhode Island
NWNL Director Alison Jones was part of a full-day workshop in Providence on how to send NWNL messages "beyond just the choir" and how to most effectively craft scientific and professional information for readability.
Nov. 30: "How to Keep Farmers Farming," NJ Conservation Fund
As a Tewksbury Land Trust Board Member and NWNL Director, Alison Jones heard case studies on how New Jersey can retain working farmland as open space in lieu of further real estate development, and what the watershed implications are in this debate, with particular interest in how the future of agriculture will impact the Upper Raritan River Basin.
Nov. 12–17: WiLDSPEAK 2017, The Carnegie Institution for Science, Washington DC, hosted by iLCP
NWNL Director Alison Jones attended The International League of Conservation Photography (iLCP) Annual Meeting and WildSpeak presentations on photography, conservation and communications. It was also an opportunity for portfolio reviews with editors and a mini course on map-making.
Oct. 23–30, 2017: Columbia River Basin Expedition: Oregon Tributaries
Alison Jones returned to the Columbia Basin for a 6th NWNL Expedition to document rivers flowing north to the Lower Columbia River: the Deschutes, Metolius, Crooked, McKenzie and Blue Rivers. The sources for these rivers are the springs and lakes from Mt Bachelor, The Sisters Mountains, and other areas in the Cascade Mountains.
Oct. 4–20 and Nov. 1–3, 2017: California Drought Expedition: Update
NWNL Director Alison Jones returned to California to assess impacts of the recent wettest winter ever on the "proclaimed end" of CA's recent 5-year drought. Dead vegetation from that drought and a return to droughty conditions due to CA's 2017 second-hottest summer ever were obvious factors in the devastating Sonoma wildfires occurring during her visit. Other topics pursued were the proposed Delta tunnel infrastructure and installation of desalination plants.
May 22 – June 30, 2017: Group Exhibit at Johnson & Johnson World Headquarters, New Brunswick, NJ
Featured in this exhibit were photos by NWNL Director Alison Jones that appear in The Raritan River: Our Landscape, Our Legacy, published by Rutgers University Press.
Sept. 1, 2016 – June 25, 2017: "Sustainability" exhibit, Dobbs Ferry, NY
This exhibit followed the Opening Exhibit of Steve McCurry photographs at the new Maureen Fonseca Center. Images depict the value of our freshwater resources and watershed threats from Agriculture and Fishing, to Biodiversity and Cultures, to Industry and Infrastructure. The Masters School, Dobbs Ferry.
June 10–18, 2017: Mississippi River Basin Expedition: Nebraska's Missouri and Platte Rivers and their Tributaries
NWNL Director Alison Jones returned to Nebraska this month to further document Nebraska sites and stakeholders, this time including eastern and northern stretches of the Missouri River, and its Niobrara, Elkhorn, Loup, Platte and Blue tributaries, all of which will be crossed by the proposed Keystone XL pipeline that would carry oil from Canada to the Gulf refineries for shipment overseas. See the Missouri and Platte Rivers Expedition pages.
June 9, 2017: The Sustainable Raritan River Conference
Alison Jones (NWNL Director) and Sarah Kearns (NWNL Manager) attended this 9th annual symposium in New Brunswick NJ, at Rutgers University's Edward J. Bloustein School of Planning and Public Policy.
March 20–27, 2017: Mississippi River Basin Expedition: Nebraska's Platte River
NWNL Director Alison Jones and expedition guest Carolyn Bowman documented sites and stakeholders along this Upper Mississippi River Tributary and the habitat it provides for migrating Sandhill Cranes. See the Platte River Expedition pages.
March 7, 2017: NWNL Lecture, "A Long Walk to Water," New York City
NWNL Director Alison M. Jones spoke to Birch Wathen Lenox School students on their assigned reading "A Long Walk to Water," using NWNL documentation of no running clean water in homes – in both Africa and North America.
March 2–4, 2017: NANPA Summit (North American Nature Photographers Association), Jacksonville, FL
As this year's NANPA Foundation Grantee, Director Alison Jones attended and reported on the results of the grant awarded to NWNL October 2015.
Jan. 27 – Feb. 16, 2017: NWNL Expedition to Northern India
Alison Jones, NWNL Director, documented water issues faced in arid areas of Rajasthan and the Ganges River Basin: water availability, quality and usage; value of water within the Indian culture; and solutions to water and food scarcity being pursued and considered within India today. See the Northern India Spotlight pages.