Alison M. Jones: 2004 – 2010 Travels
---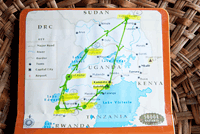 White Nile River Basin Expedition (Mar. 26 – Apr. 14, 2010)
As No Water No Life's lead photographer and project director, Alison Jones photographed the two White Nile tributaries, the Victoria Nile and the Albert Nile, and investigated conservation of forests, wetland habitats and ecosystems.
One third of Africa's populations reside in and depend on the natural resources of the Nile River Basin. Current threats to the natural resources and balance of this watershed include climate change, population growth, pollution and infrastructure (including new oil fields and the Bujagali Dam now under construction).
See more images in No Water No Life's White Nile Expedition Photo Gallery and Field Notes.
---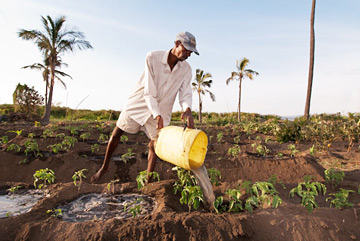 Mara River Expedition (Sept. 15 – Oct. 14, 2009)
Conservation photographer Alison Jones and videographer Alison Fast spent a month photographing the vulnerability of the Mara River for No Water No Life, and returned with exciting and thorough documentation of the Mara River Basin's urgent issues of degradation and grassroots solutions.
The Mara River Basin was especially hard hit during a recent 3-year drought in East Africa. Jones and Fast documented the Mara River's critically low water levels and pollution, as they traveled from its Kenyan source in the Mau Forest to its Tanzanian outlet into Lake Victoria. The resettlement and afforestation of the Mau Forest now being implemented is one of Africa's greatest environmental success stories.
The team filmed interviews with 35 stakeholders and scientists committed to mitigating these threats. All agree that while this is certainly a critical time for the Mara River Basin, its inhabitants and its renowned wildlife, there are reasons to be positive.
See more images in No Water No Life's Mara River Basin Photo Gallery.
---
Rio Grande Expedition, New Mexico (Feb. 16 – March 3, 2009)
The Rio Grande offers interesting comparative documentation as a North American transboundary river basin facing both higher levels of water extraction and lower levels of snow pack. Extraction issues include agriculture, increasing domestic usage, evaporation, droughts and invasive species. As Project Director for No Water No Life, Alison Jones talked to local sources while in Albuquerque for the North American Nature Photography Assoc. board meetings and Summit. She then documented New Mexican reaches of the Rio Grande and Mexican border fence impacts on the watershed. Alison was joined by Bonnie Muench, NWNL Expedition Photographer, and Jean M. Thatcher, NWNL Researcher.
See more images from the US Southwest expedition.
---
Waters of Africa, Part II: Ethiopia and Kenya, Summer 2005

This trip of boating and camping in the Lower Omo Valley allowed a small group of 7 photographers to document local tribes, including the Karo, Hamar, Nyangatom, and Mursi. From there we continued south by boat through the Omo Delta, home of the Dassanech tribe and a rich variety of bird species, and out onto Lake Turkana, known as the Jade Sea. We ended our boat trip on the northwest shore of the lake and then flew east to the Chalbi Desert to stay at Kalacha, an oasis frequented by the Gabbra women and their camels.

---

Waters of Africa, Part I: Flying Safari from Nairobi to Cape Town, Summer 2004

For her safari clients, Alison published a journal with her images from 20 previous safaris and research on water as a precious, yet very threatened, resource.
---