May 2003 Newsletter from Alison M. Jones
Five fabulous weeks crossing Africa from the Indian to the Atlantic Ocean! Even after a dozen visits to East and West Africa and my ongoing support of Kenya's Mara Conservancy, I still was amazed by southern Africa!

Mozambique:
The Bazaruto Archipelago
Having been told these island beaches were the most beautiful in the world, I flew in a Cessna 175 from Jo'burg over the mighty Limpopo River and acres of uninhabited wild Africa into a soft sunset on the Bazaruto Archipelago. Two thousand miles of unspoiled beaches stretch from here north to Kenya with the best coral reef snorkeling I've ever seen. Set amongst egrets, long-tailed paradise flycatchers, and fields of wild gladiola, our luxuriously casual lodge offered great dune climbing, shell collecting, birding — and tasty meals of freshly caught fish!
The highlight was low-flying our Cessna over sun-bleached sandy spits and narrow islands. With the doors off and a warming polarizer on a Nikon 24–120 lens, I filled frames with the ocean blues and beach contours below us, while a manatee sow and her calf, turtles and sharks swam the channels.
Botswana:
The Okavango Delta
Next was a long-dreamed-of trip to the world's largest inland delta. This sunken pan at the bottom of the Great African Rift Valley is covered by 500 meters of sand blown in sixty million years ago. Known for its ebb and flow of floodwaters, the Delta is dotted with islands built around termite mounds and crisscrossed by channels cut through papyrus and cleared by hippos.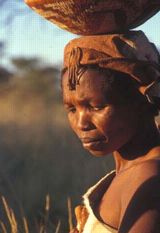 Island hopping by plane over this pristine corner of Africa, I saw Angola's waters flow into thirsty Kalahari sands, bringing wildlife extravaganzas of red lechwe, elephant, lion, leopard, giraffe, buffalo, zebra and birds. At Mombo, perhaps Africa's finest lodge, dozens of species paraded past my verandah to be photographed, beautifully reflected in the waters known as "Okavango champagne"! No wonder this is the lodge of choice for National Geographic photographers in Botswana.
We stayed in elegant, elephant-filled luxury lodges, a tented camp with a "woodpile" blind by its waterhole, and a tourist village of grass huts run by San Bushmen. As a visual anthropologist, I relished photographing Bukwhawe men dancing to a thumb piano and women gathering healing herbs for the family. The ultimate Delta experience was being poled in a mokoro, local canoe, in sunrise silence past papyrus marshes with frolicking lechwe, elegant silhouettes of wattled cranes and five species of storks. Neighboring governments may soon dam key rivers that flood the Delta, so if you too want to visit this unique delta, do so soon!

Namibia:
The Skeleton Coast and Sossusvlei Dunes
Namibia caught me by surprise! Bertie Schoeman, whose father initiated flying safaris over this wild country, flew low over the Namib Desert and along the Atlantic, sharing incredible local lore and geology. Curving in among some of the world's highest dunes, blown 60 miles inland, Bertie would land in the midst of nowhere to reveal secrets of desert life. We skimmed the Skeleton Coast in and out of billowing fog as sun-splashed flamingos exploded into flight below us, landing on a beach to picnic next to deserted alluvial diamond diggings. No, I didn't find any!
Vast seal colonies and ancient shipwrecks dotted our flight path up to Angola 200 feet above this raw geological backbone of Africa. When not flying we had incredible time spent with remote Himba nomads, rhinos running across salt pan mirages, and gemsbok sparring at the waterhole!