September 2003 Newsletter from Alison M. Jones
Mesmerizing icons overlapped throughout the seven weeks of my summer in Kenya and Tanzania. Observing the diversity of East Africa, I focused on aerial and digital photography. My trip centered around climbing Mt. Kilimanjaro with Jackson Lesooyia, a Maasai safari guide and friend, to raise money for Kenya's Mara Conservancy. I've visited Africa often, but never have I been so in touch with the continent's immense range of past, present and future.
The Past: Kilimanjaro's dust of a million years clung to my socks, mittens and wind-burned face. In Koobi Fora, the ground was strewn with two-million-year-old fossils of crocodiles, elephants and oysters that shared this once lush region with Homo habilis. In a scene I thought limited to ancient history textbooks, lines of camels followed gloriously-clad Gabbra women to water, ignoring our single-engine plane parked at this Chalbi Desert oasis.
The Present: In July the wildebeest migration – yet another African icon – returned to the Maasai Mara. This roaming biomass lives, breathes, throbs, bleats, ebbs and flows like the tides. Managing plains west of the Mara River that wildebeest and zebra favor, the Mara Conservancy represents a new community-based paradigm. Barely two years old, this private management group has arrested 200 poachers and seized over 2000 snares. The Conservancy is widely praised for creating a near-perfect infrastructure of roads, game-viewing tracks, and tourist facilities, and for instituting an accountable revenue collection system. Meetings are held under trees and in Nairobi boardrooms with park management and local Maasai focusing on essential community development projects.
The Future: A black-bellied bustard's egg freshly laid on our dusty tracks – and still damp – embodied the fragile future of wildlife we hold in our hands. On a crater's edge the sulphuric steam of a two-month-old fumerole burned my face with heat from 8,000 miles below, indicating powerful shifts of the earth's energy yet to come. Vast amounts of laval scree have already replaced much of Kilimanjaro's snow and ice which scientists predict will be completely melted by 2020.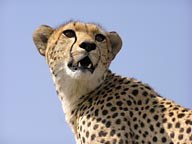 Through tent flaps and mosquito netting, I watched Mars travel towards Earth. Now Mars has gone on its solo journey of many millions of years. I am in New York City adding many millions of pixels into my photo library as I assimilate Africa's past, present and future into my life. I am reassured that while Kilimanjaro's white cap will melt away, the mountain's mass and might will survive. And I know, unlike Mars, I will return for more time in Africa.

SPECIFIC COVERAGE
The Mara Conservancy: This two-year-old organization is crossing international borders to work with Tanzanian rangers to halt poaching. Maasai rangers ensure that animal behavior patterns are not disrupted by tourists; administrators are working with local Maasai to implement revenue-sharing development projects.
The volcanoes of Mt Kilimanjaro, Mt Longenot and Lake Turkana: After training hikes up various Kenyan craters, I spent a week in Tanzania climbing Kilimanjaro to stand for one mere day on glaciers that have stood for eons. I was fortified by the Maasai proverb Jackson Lesooyia shared during our ascent: Imeengolon epoiyeki nguaat epoyieki – Success comes not by might but by determination! Going pole pole – slowly we slurped through the deep mud and medicinal plants of the rain forest, marveled at glades of giant lobelias, trudged in thin air past stark lava towers, followed stars up to the rim of Kibo Crater and finally celebrated 19,340' at Uhuru Peak.

The Chalbi Desert and Lake Turkana: In Kenya's Northern Frontier District the Gabbra and Rendille people walk for water from their manyattas across the desert 3 days out of every 5 – and have since the days of the Old Testament. My aerial perspective underscored the hardships and distances of their land. Lake Turkana, the jade sea in this desert, simmers with mirages, sulphuric fumeroles and the loss of indigenous species. Once-plentiful tilapia, crocodiles, zebra, ostrich are now rarely seen. Tribal cultures, still colorfully honoring their traditions and rituals here, struggle with conflicting values brought in by satellite media, tourists, missionaries.
Fantastic camps and lodges I visited on this trip:
1. The greater Maasai Mara region: Rekero Tented Camp, Rekero Cottages, Il Morani, Saruni
2. Near Lake Natron – Shompole
3. Kenya's Coast: The Peponi Hotel, private homes for rent
4. NorthernTanzania near Arusha – Rivertrees and Ngurdota

YOUR TURN! There are 3 more KILI trips available during full moon with an add-on safari week (starting 3/1, 7/24, 8/23).
Call me about such off-the-beaten-path travel! (212) 861-6961.