Memories · Activities · Wildlife · Vocabulary · Books & Films
Architecture · Food · Impressions · To Pack · Map

"An Argentine is an Italian who speaks Spanish, who thinks he's French, who would like to be English."
Si es bueno vivir, todavia es major sonar, y lo emjor de todo, desepertar. "If living is good, dreaming is even better, and the best of all is awakening."
Argentine Memories
I remember my hours sitting with quirky Magellan penguins and harems of elephant seals dominated by alpha males on the Valdez Peninsula and the Buenos Aires wine-tasting party learning about the unique Argentinean varietals of red Malbec and white Torrentes wines. Also my feasting on fresh tiny bay scallops while watching the giant southern right whales breeching in the Atlantic Ocean and not less than those I recall riding along Patagonia's windy, wild and wooly trails; breathing the snap in the air of beech forests; gazing into the jade lakes; and realizing that the snowflakes biting our faces were flying in the wind like bits of the wool gauchos shear from their sheep.
There are signs saying "Continua camino sinuoso" (winding roads) in the Calchaqui Valley, a geologist's dream destination. The wavy, sandstone uplifts, free-standing obelisks and acoustically-perfect, natural rock amphitheaters in a landscape of red, white and green rock set against the distant blue Andes Mountains. Then crossing the Tropic of Capricorn, north of Salta, in the rain shadow of the Huamahuaca Gorge, wind dried and dotted with churches, cemeteries, Indian markets and roadside offerings of bottles of water, cigarettes, and cocoa leaves for Pachamamoca, the god of their motherland, or some say to Difunta Correa, a saint of the indigenous people.
Memories · Activities · Wildlife · Vocabulary · Books & Films
Architecture · Food · Impressions · To Pack · Map
Activities in Argentina

"There are still many places in Argentina to hide."
• Trek glaciers wearing crampons to hear icebergs calve into aquamarine lakes.
• Drive ATVs to find rainbows in waterfalls that are louder than any nearby screeching parrots.
• Mountain-bike to watch Andean condors soar.
• Loping across Patagonian pampas in the wild wind, fog, snow and sun.
An Argentinean Spring Day
Learning traditional protocol for drinking yerba mate and sheep shearing methods: Old World traditions in a remote mountain frontier.
Memories · Activities · Wildlife · Vocabulary · Books & Films
Architecture · Food · Impressions · To Pack · Map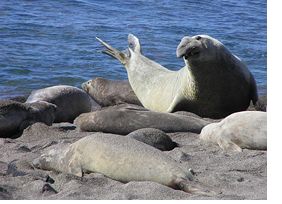 Argentine Wildlife
• Southern right whales with calves
• Orcas who beach themselves to kill sea lions
• Magellanic penguins nesting
• Hairy armadillos skulking in the bushes
• Elephant seal colonies of tens of females, yearlings and pups being controlled by one alpha bull that is eventually driven out by peripheral teen-age males
• Toucans, cara-cara, lapwing geese, Andean condors, woodpeckers, southern lapwing geese.
Memories · Activities · Wildlife · Vocabulary · Books & Films
Architecture · Food · Impressions · To Pack · Map
A Gaucho's Vocabulary List:
"At the end of the world, the road is not paved."
Bombachas (gaucho pants)
China (gaucho's girlfriend)
Cordero (sheep)
Patenque (breaking corral)
Galpon de esquila (sheep shearing shed)
Tambito (milking shed)
Puesto (shelter for gauchos)
Guardaganado (cattle crossing)
Rodeo (the rounding up of sheep)
Jineteada (riding wild horses in what we call a rodeo in US)
Memories · Activities · Wildlife · Vocabulary · Books & Films
Architecture · Food · Impressions · To Pack · Map
Book List
About Argentina:
Voyage of the Beagle, Charles Darwin. On the Patagonian plains: "...without habitations, without water, without trees, without mountains.... Why then... have these arid wastes taken so firm a hold on my memory?"
On Patagonia, Bruce Chatwin. A wonderfully written blend of fact, myth and fantasy.
An Englishman in Patagonia, John Pilkington, Century, 1991, a critical commentary on Chatwin.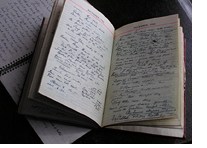 Enduring Patagonia, Gregory Crouch.
Far Away and Long Ago (1985) and Idle Days in Patagonia (1984), W. H. Hudson, Everyman.
Imagining Argentina
Arte Rural, Yann Arthus-Bertrand, Text by Mariano G. Fernandez.
Argentina From The Air, Yann Arthus-Bertrand.
Insight Guide of Argentina, interesting general overview for tourists.
Digging up Butch and Sundance, Anne Meadows, Bison books, 1996, examining the fate of Butch Cassidy and the Sundance Kid in Argentina.
On fishing: A River for Christmas (Chapter: "The Rivers of Patagonia"), Ernie Schwiebert.
On tango: The Life, Music and Times of Carlos Gardel, S. Collier, Univ. of Pittsburg Press, 1986.
Argentine Authors: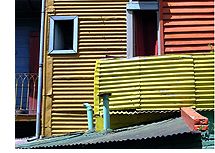 About Jorge Luis Borges: Jorge Luis Borges: a writer on the edge, Beatriz Sarlo, 1993, NY.
About Julio Cortazar: The Novels of Julio Cortazar, S. Boldy, 1977, Cambridge.
And authors Adolfo Bioy Casares, Eduardo Mallea, Manuel Mugica Lainez, Ernesto Savato, Silvina Bullrich
Film List:
Evita, starring Madonna and Antonio Banderas, based on Andrew Lloyd Weber's musical, directed by Allan Parker.
The Mission (about the Jesuits and indigenous Indians during the Spanish colonial days), starring Jeremy Irons and Robert de Niro, directed by Oliver Stone. Filmed at Iguazu Falls.
"If Indians were invited… to the feast of Civilization, there was little room for them at the table." — Guillermo Cox, 1863.
Miss Mary, starring Julie Christie, directed by Argentine Maria Luisa Bemberg.
Memories · Activities · Wildlife · Vocabulary · Books & Films
Architecture · Food · Impressions · To Pack · Map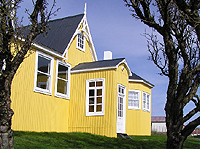 Architecture
"I feel like I've trespassed into a fairy tale... I've never seen an estancia in such perfect condition. This place is Old World, immaculate, and shows the pride of a woman's touch... in its well-appointed, beautifully landscaped and spectacularly isolated [location.]" — Enduring Patagonia, Gregory Crouch
Memories · Activities · Wildlife · Vocabulary · Books & Films
Architecture · Food · Impressions · To Pack · Map
Food
"The gaucho, for months together, touches nothing but beef." — Darwin
Beef: Loma (tenderloin), morcilla (blood sausage), chorizos (spicy sausage), ribs. Argentine beef is tender and lean because it comes from cattle purely grass fed (never given hormones, never in feedlots). In Argentina, due to the vast expanse of land available, each steer is allotted 1.7 square miles of grassy land!
Asado (the traditional and elaborate beef barbeque cooked on a parrillo by a parrillero)
Achuras (sweetbreads, kidneys, liver, even intestines and udders)
Chimichurri (traditional meat sauce)
Empanadas (triangular pastries with elegantly roped edges filled with individual combinations of meat, egg, olives, raisins, onions, potato, corn, cumin and/or paprika)
Cazulade pollo (a chicken/potato/corn stew like a posole)
Carbonada criolla (beef stew)
Carbonada en Zapallo (a chicken stew with peaches served in a large pumpkin decorated with bougainvillea – El Bordo de las Lanzas)
Sasparilla (wild currants)
Budin de choclo al caramelo (sweet corn pudding)
Guayava en almivar (dessert of guava compote, cream and chocolate dessert)
Dulce de leche
Dulce de Leche
(Milk Caramel Jam – Argentina's beloved, prime dessert ingredient)
Recipe from Maiten. Makes 1½ cups
5 cups milk
1½ cups sugar
1 vanilla bean, split
1 tsp. Baking soda
Put milk in large, heavy saucepan over medium-high heat. Bring to a boil and allow skin to form on top of milk. Do not stir. Skin will thicken and puff up; then reduce heat to medium and remove skin.
Increase heat to medium-high and repeat process three more times. The skin will become thinner with each boil. Resist the urge to stir milk.
Add sugar and vanilla bean after fourth and final boil, then stir until sugar has melted, about 2 minutes. Reduce heat to medium-low and stir in baking soda.
Simmer milk, stirring often, yet taking care not to disturb film of cooked milk forming on the inside of the saucepan. Simmer, skimming foam while milk cooks, until milk is very thick and golden, about 3½ hours more. Mixture will brown as it cooks.
Strain cooked milk through a sieve into a bowl, then cover and refrigerate. Mixture will thicken as it cools.
Alternate recipe (from Meme Larriviere at Estancia Arroyo Verde): Boil 5 liters milk and 1 kilo sugar gently 4–5 hours, constantly stirring. Serve with strawberries, bananas, fruit salad, roasted apples and pears, On crepes with powdered sugar, with toast, in a flan, atop custard, or as you like!
Dulche de Leche Soufflé
(Caramel Soufflé Recipe from Maiten)
Easy, quick, and very rich dessert
1 kg Dulce de Leche (about 1½ cups)
10 eggs, separated
10 mid-size spoons of sugar
Butter and sugar a soufflé bowl.
Whip egg yolks together with sugar. Whip separately egg whites to a stiff peak.
Place the Dulce de Leche in the bottom of the soufflé bowl, the egg yolk mix on top, and lastly the whipped egg whites.
Cook in moderate to hot oven in Baigne Marie (soufflé dish sitting in pan of water) for approximately 30 minutes.
Serve immediately after removing from oven so that the soufflé does not sink or lose heat.
Memories · Activities · Wildlife · Vocabulary · Books & Films
Architecture · Food · Impressions · To Pack · Map
Postcard of Impressions
"all the attending marvels of a thousand Patagonian sights and sounds..." — Herman Melville
Patagonia, approximately half of Argentina, is 1 million square kilometers of open space framed by the drama of the Andes. Throughout the country homes are touched with Old World elegance of European descendents who wear the spirit of the frontier – a wonderful combination. My journal and my digital photo library are crammed full with the intensity and the tease of my first month in Argentina! I want to stay for months longer, yet I look forward to continuing my new relationship with Argentina on my return to New York. Having overflown the Beagle Channel in Tierra del Fuego, I'm dying to read accounts by the captains of clippers that rounded Cape Horn. After a Buenos Aires evening sipping champagne and photographing dancers, I want to learn its athletic, balletic style and practice its impassioned language. Now having trekked age-old glaciers continuously calving into aquamarine lakes, I want to determine the paths of the explorers who mapped the rugged Andean Chilean-Argentine boundary according to mountain ridges not political gifts. I'm even happy that drowning of my transitional compact digital camera in the rain forest horseshoe of Iguazu's 256 waterfalls will force me to determine my ultimate digital SLR camera choice.
Memories · Activities · Wildlife · Vocabulary · Books & Films
Architecture · Food · Impressions · To Pack · Map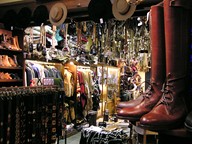 To Pack
Fishing rod for 30-lb trout
Half chaps and boots for riding
Elegant clothes for Buenos Aires
Wind jacket!