Alison M. Jones Photography:
A Golden Path for Ghana
---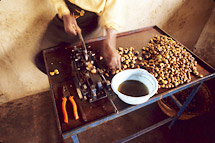 TechnoServe member and professional photographer Alison M. Jones has documented micro-enterprises in Kenya, Tanzania, Peru, El Salvador and Nicaragua. Recently she lived in a TechnoServe project village in Ghana for a week capturing the impact of development on community.
I ARRIVED in Ghana on Independence Day to hear President Kufour's address to the nation: "Our country is not poor. It is a well-resourced nation that has been badly managed.… Ghana was the first sub-Sahara country to get independence. Let us make Ghana the first to become economically self sufficient and wealthy."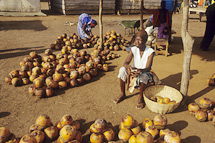 Settling into the Brong-Ahafo town of Sampa, I sensed the enormity of Kufour's dream, yet was buoyed by local attitudes. Ghanaians are do-ers, not loafers. One farmer told me, "I don't believe in fate. Everything is a result of plans. You can make anything happen." A truck's bumper sticker read "Work harder – Sweat sweet." The fetish chief told me his "small god" was a "hunter of doubters." I found no doubters. I found cashew farmers eager that TechnoServe teach them about this new niche export. Cashews are seen as the path to prosperity.
Sampa, today so remote, had been a bustling trade center for five nations before Liberia's 1991 war. Still colorful, the market no longer supports this town of thatched, mud-brick homes. There is no running water, little electricity, no refrigeration, and one radio that patches into a telephone many miles away.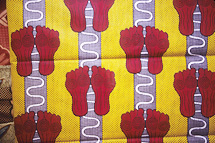 Life is simple in Sampa. The air rings with drums "talking" from compound to compound, Muslim prayer calls, Catholic church bells, and children playing. The smell of cooking fires is as omnipresent as the dust from distant Sahara sands. "Oware" games under a baobab tree segue into an afternoon tapping palm wine. Hairstyles painted on barbers' boards are labeled "Terminator" and "Miss Universe;" and restaurants and bars have names such as "Don't Mind Your Wife Chop Bar" and "The Check Me Out Spot!" I shared Kente cloth legends with children; admired the strength of women drawing water from community wells; and shook hands 389 times at a funeral.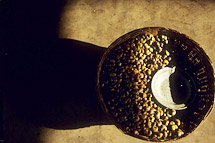 As I sang, sweated, and shared meals with villagers, I witnessed the benefits of Sampa's "golden fruit" industry. Cashew orchards, this region's "gold mines," benefit farmers' families and communities. In Sampa, foundations are being laid to replace open-air classrooms. New homes are concrete with tin roofs. Medical facilities and health education are improving. "Bore holes" are replacing shallow wells. Perhaps most importantly, cashew orchards deter desertification.
In my audience with Sampa's Paramount Chief, I explained that for me, a "visual anthropologist," conserving diverse cultures and preserving unique environments are the great issues of this century. Expressing appreciation for TechnoServe's and my mission in Sampa, he asked that I return soon to see an improved Sampa. The chief, TechnoServe, and I share the belief that cashews are Sampa's golden path.
---