Alison M. Jones: NGOs: KickStart
(Reprinted from the Deere & Company
2006 Global Citizenship Report)
---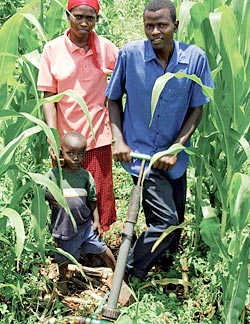 Sustained Giving through the John Deere Foundation
Philanthropic efforts must be sustained to be effective in bettering communities and society in general. The work of the John Deere Foundation is one way the company's philanthropy is able to have lasting effects. The foundation was established in 1948 and, since its inception, has invested millions of dollars to support education, human services, community development, and arts and culture.
The foundation expanded its scope globally in 2005, and added Solutions for World Hunger as a fifth category of giving. As part of that expansion, the foundation established relationships with KickStart, the Food Resources Bank, the World Food Prize, and the Wheaton (Illinois) College Human Needs and Global Resources Program.
Foundation Gives $3 Million to KickStart
KickStart, a non-profit organization that helps farmers in Kenya, Tanzania, and Mali get out of poverty, is a major foundation partner.
KickStart develops and sells low-cost equipment such as simple irrigation pumps to subsistence farmers, many of whom struggle to cultivate tiny parcels of land. This small investment often means the difference between barely growing enough to feed a family and growing enough to operate a profitable commercial farm.
Based on sophisticated impact monitoring, KickStart reports that 85 percent of the farmers who invest in a KickStart treadle pump for small-field crop irrigation see their net incomes rise from $100 to $1000 in the first year of using the pump. The additional income also boosts village economies as farmers spend money on health care, education and other goods.
Farmers using KickStart equipment, ranging from the pumps to an oilseed press and a simple machine to make blocks for building, have had enough success to account for a measurable impact on their countries' economies. As of late 2006, KickStart had helped more than 47,000 families (about 240,000 people) start profitable commercial farm businesses.
A three-year, $3 million grant from the John Deere Foundation is helping KickStart expand its program into three more African countries with a goal of selling 125,000 pumps and helping to lift 400,000 more people out of poverty. Although KickStart sells the pumps, such grants are essential to defray the costs of marketing necessary to get the pumps into farmers' hands at a price they can afford and providing training in the use and maintenance of the pumps.
Growth Plans
The John Deere Foundation has doubled its annual giving over the past three years and anticipates awarding grants and gifts totaling $12 million in 2007. The foundation is currently funded by annual contributions from John Deere, but plans are under way to create an endowment fund by 2037, the company's 200th anniversary.
Guiding the work of the John Deere Foundation is a board of directors that meets regularly to review funding requests. The board bases its funding decisions on its categories of giving, the availability of funds, the expected success of a requester's program, the program's effect upon John Deere employees, and the demonstrated level of community support.
Education Support: A John Deere Tradition
Education is the key to success, both for individuals and organizations. John Deere is committed to improving education for students from pre-elementary through college, helping to create a vital and diverse work force for the future.
John Deere's support benefits a wide variety of programs, from Junior Achievement, FFA and the National 4-H Council to colleges and universities around the world.
Through partnerships with organizations such as SECME, Inc., (formerly Southeastern Coalition for Minorities in Engineering), which seeks to interest minority students in technical and engineering careers, and INROADS, a program that places students into internships, John Deere encourages students of all backgrounds to explore the possibilities of a technical career.
The European Goodwill Fund supports educational projects such as the donation of the "Young Scholar Award" of the Mannheim Center of European Economic Sciences and the Heidelberg Center of American Studies spring academy, where 20 young scientists from all over the world spend a week in Heidelberg discussing their Masters or Ph.D. theses on issues related to American studies.
In Brazil, Fundação John Deere sponsored the publication of the book Balaio de Idéias, or Basket of Ideas, which educates children about environmental protection and issues related to climate, geography, and history. The government of São Paulo State printed 2500 additional copies of the educational book to distribute to public schools fter an initial 3000 were printed.
---
---