Kilimanjaro is a great woman – with altitude and attitude. Studying her snow-covered silence during a gaudy Amboseli sunset, I decided to scramble onto her ancient shoulders embodying Africa's geologic evolution – a past beyond any past I had known.
Six months later my feet were slurping through a soggy trail to this Rooftop of Africa. I was not struggling alone with this intimidating woman. I was with my Maasai friend Jackson Looseyia. Following his father's footsteps, he is an innately savvy bush guide in the Maasai Mara National Reserve, the jewel of Kenya's game parks. We had met a year earlier as co-supporters of The Mara Conservancy – a new paradigm of community-based wildlife management.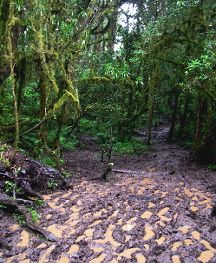 It was summer of 2003. Kenya urgently needed help. US and UK warnings on terrorism had halted tourism and thus revenues. Jackson and I decided to use Kili as a Homeric siren to lure our contacts to donate to the tourism-dependent Mara Conservancy.
Our fundraiser would be successful because Jackson's Maasai heritage would insure he'd get to the top. But I never assumed I could summit. Maybe, if I had six months for the climb. But six days? I had never chugged up even a small mountain. I had much to learn and my physicality to discover. Hopefully Kili would deign to be my on-trail trainer.
The first dawn of our climb, Jackson blurted his Maasai perspective. "Last night I felt just like I did the night before my circumcision – full of fear! But, in the immense silence of this morning, I can hear all the birds singing. My fear is gone. The time I've been waiting for all my life is finally here."
My first lesson was the higher you go, the thinner your public persona becomes. There could be no pretenses!
The next six days wound themselves around the mountain in slow motion. Day Two was my birthday, unrelated to such previous anniversaries, save a diversionary, quick set of backgammon with Tim Lapage, my friend and trip organizer, and "Happy Birthday" sung outside the mess tent by porters and 7 fellow climbers, all doctors!
This birthday synthesized my search for organic connections, my lifelong love of nature and photography, that 1960s desire for significance, and twenty years of African travel and documentation.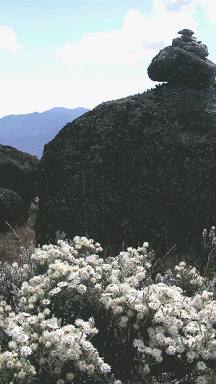 Despite this fulfillment, I struggled from the chocolate-mousse underfoot in Kili's rainforest to her wind-whipped summit. Should I press ahead, stop to relax and re-energize, or quit and go down? On Day Three I muttered, "I gotta go home, I left the iron on."
I wondered if my brain would weaken from lack of oxygen, dehydration, and an unfamiliar demand for more protein than I'd ever needed before. I hate gender stereotypes, but Kili is a very demanding woman. Once, it seemed as if I was in Oz watching the Wicked Witch writing on Africa's huge tablet of a sky, "Go home, Alison.…"
However, guidelines I set six months before arriving at Kili's base camp kept me going. I focused on the gift of each day I was on the mountain and enjoyed each beautiful step. Luckily I had no blisters! Our group energy was vitalizing. Kathy massaged and soothed my throbbing thighs on Shira Plateau. The clarity of our quest sustained us. Jackson was my saruni (Maasai for savior) when my knees buckled during a scramble up the precipitous Barranco Wall.
The present was purer than it had ever been. Albert Camus penned my mantra: "What is inside me is bigger than what I am." Within me was my commitment to The Mara Conservancy, to each of the 2 million wildebeest and zebra who migrate there, and to predators and tourists awaiting their arrival.
Jackson read my mind as he joked, "Climbing this mountain, we are like herds of wildebeest seeking water. Nothing stops them; and you can easily spot them by the dust they stir up." The Maasai teach, "Intention is nothing, achievement is everything." This wisdom urged us on to hurl our spirit in thin-air silence up to the rim, even as our feet stuttered only three very slow inches per step for the last 1000 feet.
Kilimanjaro lured us on. We were spellbound by spilling jewels of water despite ankle-wrenching slippery paths, her fresh breath despite a throat-scratching lack of oxygen, and the fire in her crater below her ice-encrusted white beret.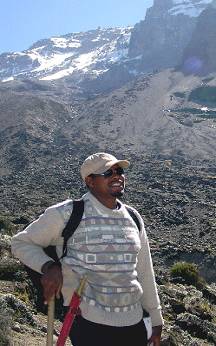 She entranced us all. Jackson reacted as a wise Maasai warrior. "It was so hard to breath that final day. The nearly full moon set, leaving us in darkness until a fiery sun rose over neighboring Mwenzi's raggedy crest. The wind up at Stella Point blew over the crater's rim, carrying flying rocks. A great fear struck as I looked down. Mugu, our Maasai god lives there. I had disrupted him and he seemed angry. I was confused. Should I hide behind a boulder or continue to the summit?" As a Maasai moran of the 21st century and supporting the Mara Conservancy, Jackson proceeded in great pride to Uhuru Peak, a place none of his elders had ever seen. Appropriately, Jackson was there before me. Africa is much more his than mine.
As I paused for breath below Kilimanjaro's crater rim, Jackson bestowed on me a Maasai blessing, "May you be as big as the White Mountain." Feeling Kili's crusty, matriarchal strength, I too edged up to peer into Kibo Crater, home of Mugu! An adrenaline rush kicked in for the next ninety minutes carrying me easily to Uhuru Peak. Was that Mugu's gift or Kili's gift? For an hour, atop all Africa, I was the newest member of Kili's great family.
We had an amazing support system. Chagga porters bearing jerry cans of water, cartons of eggs, and bulky tents made us feel like mice. These yeomen carried our gear, set up camp, taught us to honor the mountain, and repeatedly assured us "It's not far now." They taught us to use boulders as bolster pillows during midday breaks. They cooked hearty meals to recharge our batteries. On our zero-degree Ascent Day they convinced us to wear a crazy, but necessary, 8 layers of clothing above the waist, 7 below, and 3 pairs of socks, mittens and hats.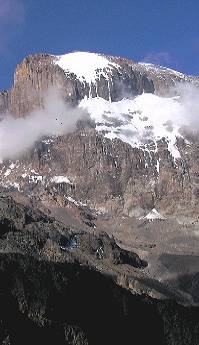 Just as it was figuratively on the shoulders of the porters that we got to Kili's peak, the success of the Mara Conservancy as a paradigm of community-based conservation rests on the shoulders of caring environmental and economic visionaries. Kudos go to the persistence and the foresight of local Maasai. Support has also come from concerned safari guides, a tireless chief executive, and environmentally aware politicians. Each of their burdens has been heavy.
With our successful summit Jackson and I earned $15,000 to lighten some of the Mara Conservancy's economic struggles. Our funds paid for maps, night-vision binoculars, anti-poaching gear, flight surveillance, and an accountant's fee to prepare the Conservancy's second transparent audit.
Inspired by our successes, Jackson wrote me one month later, "I thought that after that mlima (mountain) I would not want to climb even small hills, but I am stronger than ever now, my binoculars are strapped around my neck and my eye is focused on every horizon in front of me." Bravo, Jacko!
Trekking along 10,000-year-old equatorial glaciers 150 feet high is becoming a rare privilege. Scientists agree Kili will lose this snowcap by 2020. Since 1912, four-fifths of the ice fields have melted – by half a meter per year. Global warming, deforestation and population growth on Kili's back are causing the loss of this precious fresh water supply.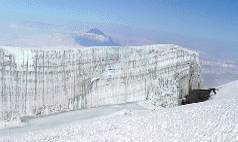 Kilimanjaro remains massively solid despite her melting ice cloak. Even if it's too late to protect her glaciers, Kili and Mother Nature are amazingly tough, not willing to accept defeat. Kili's balding can be a teacher. Wildlife, water supplies and cultural identities can still be preserved. Conservationists, like those of us who climb mountains, must stand tall even if we progress only one step at a time.