Koiyaki Wilderness Guiding School
It is easy to feel overwhelmed by Africa's many huge problems. But on Kilimanjaro 3 years ago, I learned to celebrate each "tiny step" in order to resist frustration. That's the way to Uhuru Peak (19,241' elev.) – and to any goal.
Solutions to Africa's challenges are popping up all over. I've written of TechnoServe's business solutions for rural poverty in Africa and Latin America and of The Mara Conservancy, an innovative model of private wilderness management in Kenya. Now I have another success story to share: Koiyaki Wilderness Guiding School.
In 2004, friends in Kenya outlined their vision to train Maasai as wilderness guides, simultaneously creating local income opportunities and conservation awareness. Understanding the dire need for such a school, many got involved – including my friend Jackson Looseyia, one of the few Maasai guides in Kenya today. Jackson, who climbed Kili with me in 2003, helped set the curriculum and serves as a great role model when he teaches there.
The students of the first class, enrolled in June 2005, have already all passed their Bronze Guiding Medals, taken first aid and driving courses, and interned in a tourist lodge or camp. Kudos to each! For more information, go to www.koiyaki.com.
---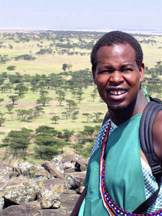 NEWS FLASH from London, Nov. '05
The Responsible Tourism Awards 2005 have awarded the Koiyaki Wilderness Guiding School their "Best For Poverty Reduction" award. The School was chosen from amongst 640 nominations.
Join the Team!
By November 2005, the first class of 23 students all passed their Bronze Kenya Professional Safari Guides exam. In May 2006 the second class of twenty-eight students were selected out of 134 applicants for the 2006 one-year field internship course. Six of this year's students are female. I am sponsoring Wilson Naotoi, one of the Maasai Alpha Scouts from the Mara Conservancy. The school would be grateful for any donations, big or small. to make a tax-deductible donation. — Alison