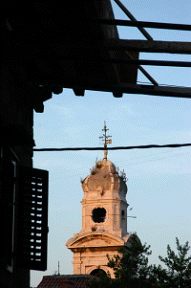 (Editors: Please see Croatia Photos on our site or to see more photos for this essay. Travelers: if you are interested in help planning a trip to Croatia.)
Zagreb, Croatia's capital on the Penonic Plain, and the Dalmatian Coast are off my beaten path. They are not in Africa, Latin America, nor even Western Europe. Whether Central or Southern European, Croatia's impact caught me off-guard. As a history major and architect's daughter, I arrived excited to get to know this corner of the former Yugoslavia and to photograph historical ruins, gates, windows, palaces – not forgetting the people, laundry lines and cafes! Mogu lik vas slikati? (May I take your picture?) I discovered the photography of Toso Dabac, whom many hail as Croatia's greatest photographer. His black and white images are in the classic style of Cartier-Bresson, Strand and Kertész. After looking through Dabac's window into a Croatia of 50 years ago, I opened my eyes to see a society chafing at the bit, emerging from post-war recession and gaining a fairly moderate government.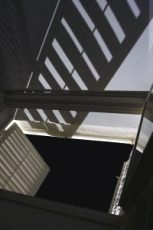 While hopping trams in Zagreb and ferries on the Dalmatian Coast, I tripped over names from school days: Diocletian, merchants of Venice, Napoleon, Tito.... Politically renewed, yet of Neolithic origins, Croatia's long time-lines in history are heavily scarred by recurring invasions and ethnic battles from pre-Roman times to 1990s. Yet the Balkan people, whether Serb, Croat, Bosnian or Muslim, have energy and a bounce in their step despite constant wars and hardship.
I was stunned by Croatians' resilience and style. Light red wines, black cuttlefish risotto, stones polished white by millennia of foot traffic, teal-blue Adriatic reflections, green shutters and ecru embroidery fatta a mano present a colorful, and healthy, cultural profile. May is a good month to visit. Weather can be variable, but chestnut trees, mustard and broom are in bloom. Red geraniums overrun gardens. Local strawberries, baby artichokes, thin asparagus and lilies of the valley fill the markets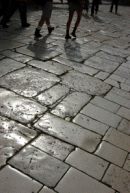 Yes, Zagreb neighborhoods can be dark, dirty and dank. Yes, narrow streets in coastal towns can reek of old fish and cat pee. Communist architecture still imposes its somber note. This is not Paris or Provence. This country is raw. As ancient as it is, Croatia seems like a teenager trying to grow up and join the gang of modern Europeans. Emerging efforts at respectability are omnipresent. Steam-cleaned cobbled sidewalks and laser-cleaned grimy monuments whisper wishes for prosperity and tourism. It is coming.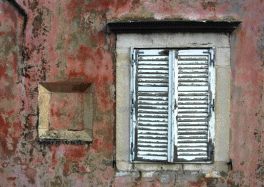 I liked being there ahead of that curve. So far, Croatian currency, the kuna named for a weasel-like animal and the lipa named for local lime trees, goes further than the Euro. The Lonely Planet has designated Croatia "The #1 Destination for 2005," after a fourth-place finish last year. [Argentina was #3 Destination!] The editors stated: