Monarch Butterflies Safe in Mexico
The Mexican Michoacan mountains, winter habitat of monarch butterflies, are finally receiving more protection, partly as a result of the LightHawk documentary flights I was on last winter. The news this past fall suggests the government, despite intimidating odds, has gained control over both Mexican and foreign corporate logging interests.
Reuters reported from Mexico City: "Mexico is cracking down on illegal loggers who are razing the nation's forests, including a prized butterfly reserve that draws thousands of tourists each year. Environment Minister Alberto Cardenas said on Tuesday that Mexico arrested 103 people in 129 forest raids over the past six months -- compared to just 31 arrests in all of 2003 -- and secured the equivalent of 1,530 truckloads of illegally harvested lumber.
"The ministry, which estimates Mexico is losing 1.3 million acres of forest each year, will also use its bigger budget to step up surveillance in 2005 using helicopters, small planes, satellite images and troops, and will start using a nationwide database. "We are expanding the scheme and making use of information and experience from 2004, and we will advance, on the path to 2006, toward the elimination of illegal logging," Cardenas told a news conference.
"Mexico, a net importer of lumber, has been fighting for years against organized gangs of illegal loggers that are thinning out its jungles and forests -- regarded as precious national heritage as well as home to a key commodity -- and terrorizing local peasants. In a country where kidnappings and carjackings are run of the mill, the illegal timber trade is equally ruthless. The gangs are frequently armed and work at night to avoid detection, often forcing indigenous locals into selling their trees. They have also attacked police, government inspectors and journalists, built roadblocks to retake confiscated wood and stormed jails to free workmates, according to media reports. "Three years ago we had a budget of 200 million pesos ($17.9 million) (to protect) the forestry sector, now we have a budget of more than 2 billion pesos," said Manuel Reed, director general of national forestry commission CONAFOR.
"The government's biggest battle is over the state-protected 133,400-acre Monarch butterfly reserve in central Mexico, whose highland fir forests have shrunk by nearly half since 1968, despite massive planting operations. Hundreds of millions of Monarch butterflies migrate to Mexico from the United States and Canada each year, arriving in a golden cloud that attracts some 200,000 visitors. During their four-month stay they depend on fir trees for shelter in the cold mountain winters and even small holes in a forest canopy can expose them to fatally cold temperatures."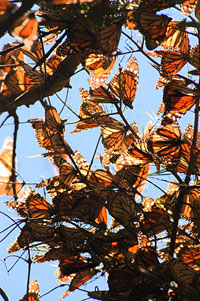 Kilimanjaro Becomes A Conservation Tool
The Rooftop of Africa's melting ice cap (that I wrote about summer 2003 after my summit) was used as evidence of global warming this month in a two-day brainstorming session on the environment agenda of the Group of Eight rich nations. Britain's Prime Minister Tony Blair handed the environment and energy ministers from 20 countries a book containing the stark image of Africa's tallest mountain with no snow, as a wake-up call and an unequivocal message that "a low-carbon global economy is necessary, achievable and affordable."
To see photos of Kilimanjaro stripped of its snowcap for the first time in 11,000 years, please visit the links below.
NASA's Earth Observatory or Columbia University
STAY TUNED!
My Current Project:
"No Water-No Life"
I am photographing essential sources of fresh water in Africa and Argentina. My hope is that the beauty of Rift Valley rivers and lakes and Patagonian ice fields will help draw attention to issues of pollution, drought, commodification, and privitization of fresh water.