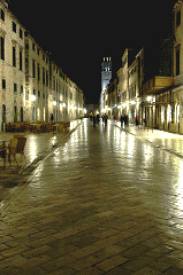 (Editors: Please see Croatia Photos on our site or to see more photos for this essay. Travelers: if you are interested in help planning a trip to Croatia.)
My exploration of the Adriatic's Dalmatian Coast began in Dubrovnik. A shimmering, coastal walled town, Dubrovnik is an architectural treasure, exemplary for its marvelously unified building style. It is a miracle that we can still experience this beauty today. Sixty-eight percent of its buildings were damaged and nine historic palaces completely gutted in the bombings of '91 and '92. Repairs cost $10 million. Mingling into the mist of sea air, chalky dust rises from sites of ongoing restoration.
Thanks to an international aid team, all tiled roofs have been repaired as closely as possible in style to the few original ochre tiles remaining. Some windows are still shuttered and nailed closed, and scaffoldings still support damaged buildings. Interiors continue to be heroically cleared of rubble, wheelbarrow by wheelbarrow down steep, stepped medieval streets. Yet discreetly elegant hotels and restaurants now thrive here.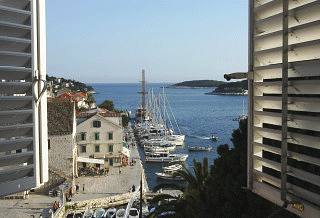 Dubrovnik, as a former city of war, is a tribute to the spirit of survival and a damnation of mankind's inability to keep peace. Its War Photography Ltd. Gallery offers a chance to dwell on the tragic implications of war. As I absorbed the exhibit and film of Ron Haviv's "Blood and Honey" exhibit there, I felt my study of Salgado's images, Sontag's Regarding the Pain of Others and photojournalism had come full circle. No matter the style, these images are all important. Whatever it takes.… Every moment tourists spend seeing these images raises a hope for peace. For me, the emptiness of the gallery, contrasted to the many tourists shopping and dining out on the streets, was as haunting as Haviv's photographs of Balkan atrocities.

While certainly thought-provoking, Dubrovnik also was an intoxicating introduction to the fresh air, cuisine, architecture and general ambiance of the Dalmatian Coast. Thus, I tripped off on the Jadrolinija ferry to the former Venetian island stronghold of Hvar. Still unspoiled, this island is the sunniest jewel in the Adriatic. The air is filled with local smells of lavender and honey. Dogs careen across plazas spilling onto quaint harbors. A 13th-century stone wall tumbles down the hill from Hvar's Romanesque fortress, now a popular party venue. Those renting dinghies to island day-trippers explain that isolated romantic havens are "near-far," meaning not far away. I hope my return is "near-far!" There's much more I want to experience just on Hvar. And then there are 1099 more islands, only 68 of which are inhabited. The Palace Hotel was great, but does anyone know a yacht needing crew for sailing the Dalmatian Coast?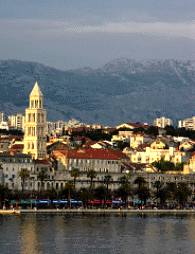 My memory of Split, Croatia's second-largest city and university center, bounces from its omnipresent fragrance of orange blossoms to its intriguing architectural puzzle. Hours can be spent deciding which part of Diocletian's Palace was built when. Which doorway belonged to the Romans, which windows to the early Christians, the Turks, the Venetians, Napoleon.… No wonder this seafront marvel, built by Diocletian in the 3rd century AD upon his abdication as Emperor of the Roman Empire, has been a UNESCO World Heritage Site since 1979.
There are wonderful nooks to be discovered in the palace today, such as restaurants tucked into unexpected corners. We had an open-air dinner in the upper wall of the palace in front of a huge fireplace with a spit for grilling kebobs of Croatian lamb. Other meals evoked Diocletian's love of cabbage that folklore says brought him home from Rome. According to Pliny the Elder in the 1st century AD, soda added to the water while cabbage is cooking keeps it green; and honey, wine vinegar, eggs and milk are a renowned 1st-century AD marinade for lamb liver.
From my shuttered, floor-to-ceiling hotel window, I watched ferries coming and going. I wanted to board each one and explore further. There was no time to do so, but I hope to return to the Dalmatian Coast to again sit pensively in a black wicker chair listening to Carmen arias bouncing off the white stones of the plac (plaza), drinking coffee with my camera nestled by my side.